Peaceable Kingdom 2017 - with Andrea Gardner
Auckland Botanical Gardens
Our sculpture explores this concept of "end time" (eschatology) as well as the complex relationship between humans and animals. In the history of art one sees this animal/human story as hugely complicated; animals are loved, revered, worshipped, protected, feared, hunted, eaten, enslaved, tortured, studied, dissected and sacrificed. In the 21st century the story continues to evolve. Enter the ethicists, biologists, climate change scientists and environmentalists, all with a clarion call to respect our natural world, including all the life forms that co-exist with us. Loss of habitat, loss of biodiversity and the ever-growing presence of man-made elements in our environment are more than deeply troubling."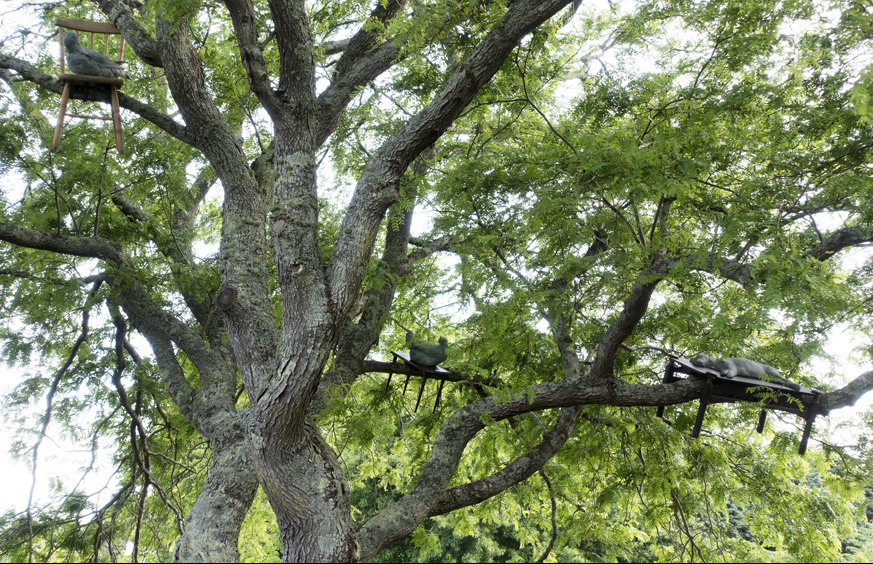 How did they get there? Should we worry about them? Has there been a terrible storm? What happened to their human caretakers? Or, because we so often live side by side with each other (we and the animals), yet each have our own lives, do we wonder about their thoughts and dreams…Peaceable Kingdom explores ideas around home and habitat, domesticity in relation to the natural world and our on-going relationship with animals and the environment.Oz, Poppins and the delirious hallucinations of a galleon stranded on top of a remote Amazonian tree in Werner Herzog's "Aguirre, the Wrath of God" are all influences.
Materials: Wooden furniture and sculptured animals. The animals are made using a 3-D scanning technique combined with 3-D modelling. They have been printed in sections using a 3-D printer.